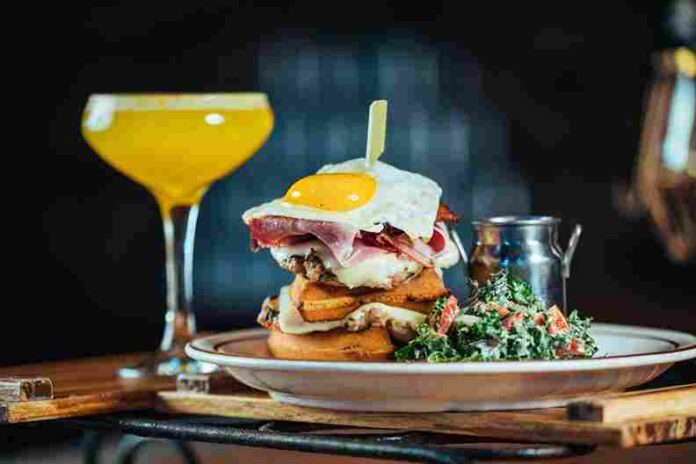 Whiskey Cake Kitchen & Bar -Chef Aaron Staudenmaier and the staff at Whiskey Cake are committed to local, seasonal food. They grow their own herbs and produce for use in cocktails. The chefs also train the bar staff to use local ingredients. They're able to provide a more personalized experience by sourcing locally and using artisan profiles.
Chef Aaron Staudenmaier
Located in Las Colinas, Chef Aaron Staudenmaier's Whiskey Cake Kitchen & Bar serves seasonal and locally sourced foods. The restaurant has a 400-label whiskey collection and uses only the freshest ingredients. In addition, straws are compostable, which is a nice touch. The restaurant serves lunch and dinner daily.
The concept chef at Whiskey Cake Kitchen & Bar is Aaron Staudenmaier, who has a background in fine dining. With years of experience, Aaron has honed his techniques to focus on local ingredients. He also incorporates whimsical touches into his dishes.
In 2014, Staudenmaier became the youngest sous chef at the renowned Mansion and worked with Chef Kent Rathburn at Abacus. He then opened Lovers Seafood in Dallas and then joined the Whiskey Cake team as a Concept Chef. Since joining the restaurant, Staudenmaier has been working on growing the brand. He is working to open two locations by the end of the year and five or six locations by 2020.
The interior of Whiskey Cake Kitchen & Bar has a relaxed, cozy atmosphere. It was designed by PlanB Group, a creative agency, who also designed the logo and name of the restaurant. The design includes repurposed wood from former rickhouses. The restaurant aims to support local farmers and artisans by using locally sourced ingredients.
The menu at Whiskey Cake Kitchen & Bar features farm-to-table dishes, seasonal menu items, and whiskey cocktails. The chefs use slow cooking methods such as smokers and spits to cook local food. The restaurant also offers micro-brewed beer and whiskey flights.
Owners
Whiskey Cake kitchen and bar offers a diverse selection of whiskeys, whiskey cocktails, and whiskey flights. The menu also features a variety of farm-to-table foods, featuring items from local farms. The menu is intended to appeal to people with different tastes, from vegetarians to people with a love for southern-style barbecue. The restaurant also offers curated wines and micro-brewed beers.
The owners of Whiskey Cake kitchen and bar have a commitment to preserving the health of their guests and staff members. To this end, the restaurant maintains the highest standards of food safety, sanitation, and hygiene. Employees are trained to comply with regulations governing food handling and sanitation. The restaurant also follows social distancing protocols and uses advanced cleaning procedures.
The two partners are also passionate about the food and have cultivated a garden in their backyard. They are both avid gardeners and have a passion for sourcing local ingredients. Risley is also an active member of the farming community. He grows peppers, herbs, and tomatoes in his yard. This is the perfect job for someone with a passion for farm-to-table food. Risley is also a firm believer in nurturing talent from within.
Locations
A new restaurant in the Round Rock area will open this Tuesday, September 13. The new establishment will be located in the former Mellow Mushroom space at 2600 N. I-35. The restaurant serves Texas-style food with a twist. The menu includes Texas-inspired dishes and desserts. Stick toffee cake is one of the specialties, made with bourbon creme anglaise. The restaurant will also feature a whiskey collection.
The restaurant will be open for brunch, lunch, and dinner, using locally-sourced ingredients. Brunch will feature cinnamon rolls and avocado toast, breakfast plates, and chicken and waffles. The bar will feature whiskey cocktails and micro-brewed beers. A curated wine list will round out the offerings.
Menu
Whiskey Cake kitchen and bar is a great place to celebrate any occasion. The staff is friendly and helpful all year round, and the prices are reasonable. It also has an inviting atmosphere and a lovely decor. The menu includes a wide variety of whiskeys, micro-brewed beers, and curated wines.
The restaurant is part of a Dallas-based chain that serves Texas-style dishes and craft cocktails. The chain will open its first Fort Worth location at 3001 Amador Dr. on Tuesday. This location will be the first one in the city, according to a spokesperson. It's also home to a whiskey-themed bar where guests can browse the whiskey collection.
In addition to the restaurant's physical location, Whiskey Cake Kitchen & Bar also offers food delivery services. You can schedule your delivery using the Uber Eats app or website. You can also check out the menu and the prices by contacting the restaurant directly. It is important to note that the menu is subject to change without notice, so be sure to contact the restaurant directly to confirm the most current information.