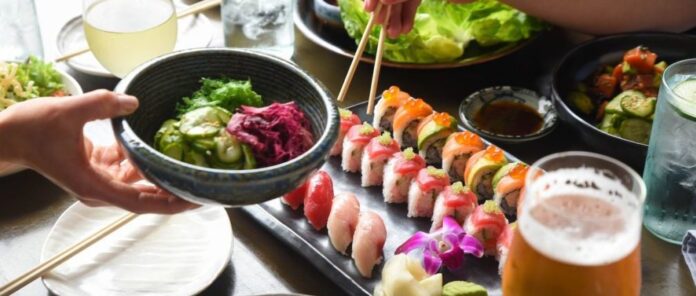 Blue Sushi Sake Grill to Open in the Power & Light District This Fall
The Blue Sushi Sake Grill app is the easiest way to order sushi on the go. The app lets you place your order with a tap, schedule pickup, and earn rewards. However, the company has not disclosed any details about its privacy practices. The company does not disclose the information it collects on its customers.
Flagship Restaurant Group is a restaurant and nightlife group
Flagship Restaurant Group is a restaurant and entertainment company that delivers innovative dining concepts to cities across the country. Founded by five passionate restaurateurs, Flagship focuses on providing innovative food and experiences with a contemporary twist. Its concepts range from casual to elevated dining, and include tiki-inspired cocktails. The company is constantly evolving to meet changing consumer tastes and needs.
The company began in Omaha and now operates in ten states and plans to open new units this year. It has ridden out challenges like the Covid-19 pandemic and transitioned from on-premise dining to takeaway and back to on-premise dining. The company expects its revenues to exceed $100 million in 2022. The company's food and beverage sales are approximately 35% of its total revenue. However, some concepts boast a higher than average percentage of drinks sales, especially in bar-focused concepts.
Blue Sushi Sake Grill is the country's largest sushi chain
The Blue Sushi Sake Grill is a nationally recognized chain that originated in Nebraska. Some locations even have vegan options. The restaurant also offers happy hours and several specials for the family.
The chain has more than 30 locations in 11 states. The chain also prides itself on its sustainable seafood practices and has even partnered with the Monterey Bay Aquarium to help protect the ocean. In addition to offering a wide variety of sushi and specialty rolls, the company offers a wide variety of seafood.
Blue Sushi Sake Grill also offers a lunch menu. The lunch menu includes a variety of nigiri and maki dishes. The restaurant also offers specialty sashimi spoons and sake flights. It offers a wide range of sake to choose from, including sweet to dry sake, premium cold sake, and a variety of sake flavors.
As the country's largest sushi chain, Blue Sushi is also committed to sustainable fish and seafood. The company works with the Monterey Bay Aquarium and other animal welfare organizations to source their ingredients sustainably. You can even read the source of seafood on their menu.
In addition to its sushi menu, Blue Sushi Sake Grill features a large mural outside. The restaurant is large, with both a covered patio and an open patio. The patio even features a fire pit. Whether you're enjoying a sunny day or a rainy day, the Blue Sushi Sake Grill is a great option for a delicious meal. The menu features dozens of sushi dishes, including raw sushi, specialty nigiri, and other dishes that are available with a variety of toppings. The restaurant also offers a wide selection of specialty drinks and wine flights.
It has 30 locations throughout 11 states, and it recently opened in MKT Heights. The company is owned by a Nebraska company called Flagship Restaurant Group. The chain is known for its sustainable sourcing of seafood and stellar service. Additionally, Blue Sushi Sake Grill has the largest vegetarian menu.
Aside from its innovative sushi and creative maki, Blue Sushi Sake Grill offers a full dinner menu and happy hours. The menu is also available in gluten-free and vegan options. The menu also includes large plates, including the signature Tuna Tower. The company also serves Ceviche, which uses tilapia, avocado, cilantro, and wonton crisps.
It's about making people feel good
The Blue Sushi Sake Grill is a new restaurant set to open in the Power & Light District this fall. Originally located in Westwood, it first opened in 2016. It specializes in sustainable seafood and prides itself on being an environmentally friendly restaurant. It plans to open in the former Bar Louie space at 101 E. 14th Street after a $3 million renovation. It is a little ironic that Blue is opening a month after another restaurant in the area, the Drunken Fish.
The concept is all about making people feel good by using sustainable ingredients and bold flavors. Not only does the menu feature unique and creative maki, but the restaurant also focuses on creating memorable experiences with a conscious awareness of the environment.