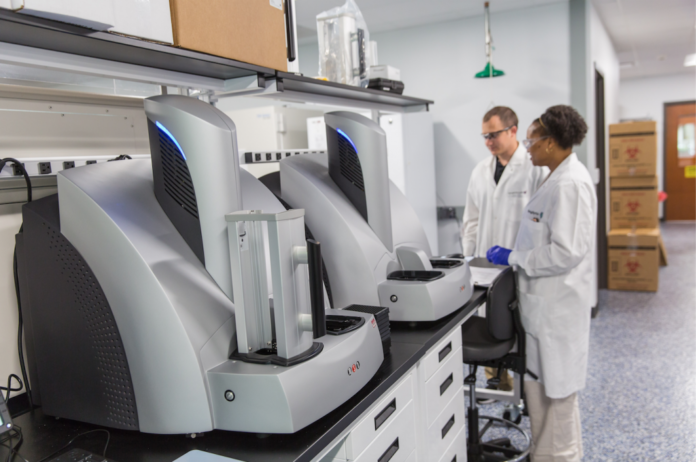 Meso Scale Discovery platform has increasingly become the primary choice of the detection method. It is similar to traditional ELISA assay, except Meso Scale Discovery (MSD) immunoassay uses electrochemiluminescence labels for detection compared to colorimetric reaction used in ELISA assays.
MSD ELISA assays have a proprietary technology developed for measuring analytes in complex biological samples. Besides, the Multi-array technology provides multiplexing capacities and higher sensitivity than  ELISA assays. Moreover, similar to conventional ELISA assays, MSD has different variations, such as MSD PK assays. Some common examples include immunogenicity assays, bioassays for evaluating drug concentrations, biomarker analysis, and bioassays for evaluating cytokines and other critical cell signaling molecules.
Considering the drug development process flowchart, it is evident that having a robust system such as MSD at every stage is advantageous for sponsors. Therefore, MSD assays have become crucial in drug development cycle. The current article discusses the key differences between MSD and ELISA assays so that researchers can choose a suitable alternative based on their preferences.
Difference between MSD and ELISA assays
Developing a novel MSD assay is easy and fast. Besides, transferring an existing ELISA to the MSD platform can be accomplished within two days. Moreover, MSD assays are inherently sensitive with a broader dynamic assay range than traditional ELISAs. Hence, fewer samples fall beyond the detection range. Following are some advantages MSD assays have over conventional ELISA:
They require lesser sample volumes

Results are more precise and sensitive

MSD can easily handle complex study matrices

Protocols are straightforward  and faster

Can quantify up to 10 different analytes in a single well

And most importantly, the MSD assay can measure normal and elevated expression levels without multiple dilutions.
Unlike ELISA plate readers, MSD provides faster read times and requires no downtime for user maintenance or cleaning. Let us now dive deep into the differences between MSD and ELISA assays.
MSD vs. ELISA
MSD assays require 10-25 μL of sample volume for up to 10 analytes, which is 50-100 μL/analyte in ELISA assays

MSD has the option of flexible panels in the form of U-Plex assays

The dynamic range for ELISA assays is 1-2 logs compared to 3-4+ logs for MSD assays

ELISA has several wash steps. Whereas MSD typically has 1-3 wash steps only

Read times for ELISA assays are much prolonged. MSD assay can read up to 960 results within 1-3 mins

Finally, ELISA requires daily cleaning and calibration.
ELISA replacement
As mentioned earlier, MSD provides the alternative of transferring existing ELISA assays to the MSD platform. They provide support and assay components for converting ELISA to MSD formats. Besides, MSD platforms are highly flexible, having multiple options for ELISA conversion. Following are some examples:
When researchers have a suitable antibody pair, they can use highly specific and sensitive sandwich immunoassays

Researchers often use bridging assays for developing immunogenicity assays

MSD provides direct binding assays when a single antibody is available for analysis

Finally, competitive immunoassays are often employed when the analyte is comparatively small or when a single antibody is available.
Moreover, MSD provides Prototype Printing Services where researchers can avail of custom coating services at lower costs.