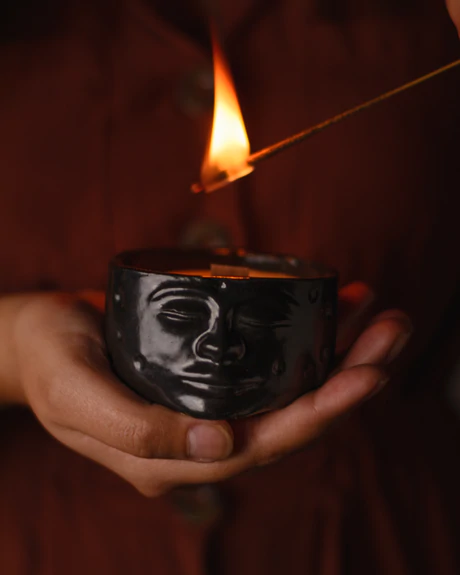 When we speak of candles, the first few thoughts that come to our mind are serene, beautiful, romantic, and warm. Unlike the olden days when candles would not come out for occasions like Diwali, candles have found a very sweet spot in our homes. Placing candles can beautifully light up the space. They are no longer restrict to basic looks. But now come in several different spaces and sizes, scents, colors, and waxes. An integral part of all festivities is candle decoration.
Whether it is placing single candles across the home or placing them in clusters, candles have the power to instantly jazz up any space with a minimum amount of effort and time.
Let's discuss some of the most used unique candles that may be available in different shapes and sizes and be placed in corners of the home to brighten it.
Most commonly seen are candle that are seen in containers. These can be make from different materials like glass, plastics, metal, or ceramics. Wax is pour into these vessels and cool to form shape. These candles become a great option when gifting since they are budget-friendly and can done in any shape and size. Only a single wick would be add for candles that are smaller than 3-inch in diameter. Several times these candle jars are store and use as decoration pieces even after the candle has completely burnt out.
These are mostly thick and sturdy when we speak of these. They are mostly 2-3 inches wide and can again be either tall, short, hexagonal, or even square. These beautiful pillar candles look extremely beautiful on fireplaces or dining table setups in homes and even beautiful for outdoor festive decoration purposes.
The candles are mostly long and slender candles that sit on a holder. These candles may not all be of the same length and can vary in length. But one thing common in them is that they are well round at the point where their wick would burning thereafter have a flame. In most cases, these candles are make up of bee wax, but this does not restrict them from using others. These are widely available in several colors. When these taper candles are pair with glass, metal, or porcelain holders, they can accentuate your space's look.
When you intend to not just brighten up your house,but also fill it with a calming and pleasant aroma, selecting aromatherapy candles is a great choice. These candles are now available in a wide variety where an individual can choose from whatever they like and however their mood it. Aromatherapy candles can work beautifully to power any household smell that may be prevailing in the house. Apart from these benefits, one of the major benefits of lighting up these candles is that they work great in calming your nerves and even have great mental and physical benefits. These fragrance candles are made with essential oils as a key ingredient.
These candles are small and disc-shaped and mostly just an inch in diameter. These tea lights are also use for warming up food or pots. Not just heating but also placing these candles add a lot of beauty and Aesthetic value to your space. You could place them in glass jars or even table setups. They look extremely beautiful when placed outdoors.
candles that are placed in small containers that are made of glass and are mostly in either square or round shape are called votive candles. When used in clusters, they look extremely beautiful. You could set them up in a metal or glass jar to add beauty to several corners of the house. The best part of using these candles is that they not only burn smokeless but also burn for longer hours, therefore brightening the place for much more time.
Another type of candle that is widely used is called a decorative candle. These candle are make in different shapes and sizes and may or may not be scent. The sole purpose of these candles is to accentuate the beauty of the place where they are place. These decorative candles can be simple pots or even very complex-looking figures.
Besides the types mention above, the market has also come up with vegan and soy candles make up of plant-based candles.
Benefits of lighting up candles
Celebrations and Romantic setups:

 From being placed on top of capes or used to decorate rooms and houses for your special days, a candle can do the job effortlessly. It setups the mood for your special moments. Remember celebrating with your loved ones over a candlelit dinner and how it wonderfully set the mood for both of you. Even when you would want to gift something to your loved ones, a scented candle is a great option.

Decor:

Candles have become a popular choice for decoration when it comes to homes or events. They add a lot of elegance and style to the area where they are place. In homes, by placing diffusers, you bring in light and create a spa-like atmosphere at home. At events like weddings and parties, big luxury candles have a fixed spot on the center tables.

Health and meditation

: When it comes to health and meditation, aromatherapy candles create a sense of calmness. These candles, when burnt, can effectively create a stress-free atmosphere.
Some of the other known benefits of using candles are it helps in sleeping well. Since it supports in maintaining natural sleep rhythms, improves memory, etc.
Candles have been in history for a very long time. Different people like to use candles for different purposes. Lighting a simple candle in a room changes the overall look and feel of the same room. With innovative and improved technology, better and new designs and types of candles have made it. To the market and are now an essential part of our homes, offices, and even events.