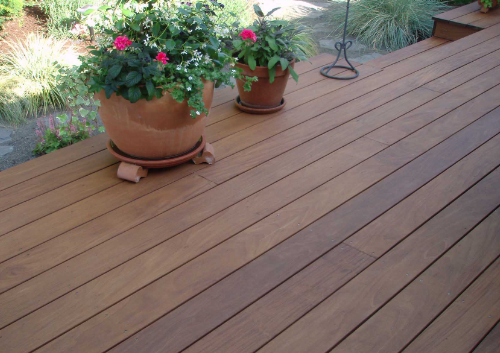 Building a deck is a dream for many homeowners. In South Carolina, the culture revolves around the outdoors, which makes home decks especially popular. If you're a South Carolina homeowner who's thinking of building a deck in 2023, there are four deck building materials that you should have at the top[ of your consideration list:
1. Ipe Wood
If you want the best of the best, you should consider using Ipe wood for your South Carolina home. Ipe is among the toughest woods, making it ideal for a deck that will be exposed to direct sunlight. It is an excellent option for locations with high rainfall because it is also exceptionally resistant to dampness and rot. Even in severe weather, ipe will not warp or split. Ipe decking can fade if exposed to UV radiation, although this can be prevented by routinely spraying timber oil. The deck does turn a more appealing gray hue than other types of wood, though, if you do let it fade. Ipe performs well in the sunshine because it absorbs heat less than other materials. Your terrace will therefore be covered even during the hottest summer days. There are so many amazing advantages to Ipe wood. However, the material is expensive, so you'll need to consult with your deck builders about how much a full Ipe wood deck might cost. For this reason, homeowners on a budget should stick with one of the other quality deck building materials that we're covering on this list.
2. Pressure-Treated Lumber
To help with the South Carolina weather and climate, having properly pressure-treated lumber is highly recommended. Perhaps one of the most popular kinds of wood decking is pressure-treated lumber. Pressure-treated lumber is impregnated with chemicals that prevent insects, thwart mold and mildew growth, and shield the wood from decay, enhancing its inherent resilience. Ordinary lumber is not chemically treated. It is also simple to locate, cut, and work with, though safety precautions such as wearing a mask while sawing or drilling must be taken to prevent chemical inhalation. Scraps should also not be burned to prevent the release of chemical fumes. Pressure-treated lumber can be improved with a stain if you don't like the way it looks. But, it's advised to wait a few months for pressure-treated deck wood to weather before adding a stain, and you might want to think about sanding first.
3. Composite Materials
Composite decking comes in a variety of designs. Several materials that are mixed to produce a new completed product are referred to as composites. The two components that are combined most frequently are low-density polyethylene and wood fibers, but other products also include rice hulls, high-density polyethylene, and other mixtures of different materials. Environmentally resilient composite decking. While many composite colors are scratch-resistant and mimic wood, their efficacy varies by manufacturer and cost. Moreover, composite decking requires no refinishing or sanding, making it incredibly low maintenance. The most frequent maintenance is usually just washing your deck a couple of times a year. Homeowners who do not want to bother with, or pay for, frequent maintenance will want to go with composite decking materials. South Carolina homeowners will love the beauty, flexibility, and budget-friendly nature of composite decking material.
4. Aluminum
South Carolina homes often have aluminum decking, especially older homes. However, this material is still popular with new homes as well. A common substitute for conventional wood decking is aluminum decking. Aluminum decking requires little care and is durable enough to last for many years before needing to be replaced. Moreover, it resists fire. Another option for homeowners looking for a long-lasting, low-maintenance deck is aluminum decking. It can be found in a range of hues and designs to go with the exterior of your house. Also, it is advised in wildfire-prone locations due to its fire resistance, and because of its resistance to weather damage, it is also a suitable option for homes in places that frequently experience hail storms and severe winds. The fairly cheap cost point of aluminum decking makes it great for homeowners on a budget and falls into a similar price category as composite materials in many cases.
Pick the Perfect Deck Material
If you want to unlock your dream deck, you'll need to carefully consider which of these four materials to go with. In some cases, an entirely different material may end up being the better choice for your deck. By consulting with a deck building professional, you can find the exact style and material for your deck, and have the best summer of your life!