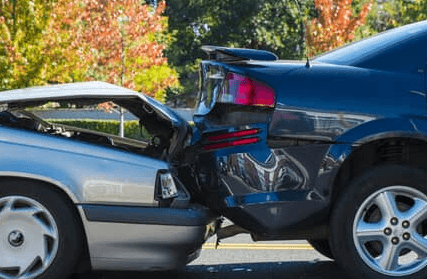 Car accidents are a serious issue in the United States. Even though Illinois is a fairly safe state for driving, accidents still happen. Here's a look at the most common types of car accidents that occur in Illinois, the top causes of car accidents, and what you should know if you're involved in a car accident in Illinois.
Most Common Types of Car Accidents in Illinois
Head-On Collisions
This type of collision occurs when the front end of two cars collide, and is usually the most deadly. Fortunately, this isn't the most common type of car crash seen in Illinois. Head-on collisions are usually caused by speeding and other types of reckless driving.
Rear-End Accidents
A rear-end accident occurs when one driver crashes into the back of another. This is the most common type of car accident. Rear-end accidents are typically caused by distracted driving.
Sideswipe/T-Bone Crashes
This type of car accident is when one car crashes into the side of another vehicle, usually at an angle creating a "T" shape. This is the second most common type of crash in Illinois and can be caused by a variety of reasons.
Top Causes of Car Accidents in Illinois
Distracted Driving
Distracted driving is the leading cause of car accidents in Illinois and all over the U.S. Texting while driving is one of the most common types of distracted driving, but anything that takes the driver's, including eating and talking on the phone.
Fatigue
Driving while tired or drowsy is another common cause of car accidents. Long drives by truck drivers are usually what causes fatigued driving accidents, but other drivers on the road have caused accidents by being fatigued. Like with drinking, it's best to call a friend or rideshare service if you're too tired to drive.
Impaired Driving
Fatigue is one thing that can impair driving, and impaired driving itself can be considered distracted driving. However, the most common type of impaired driving is driving under the influence of alcohol or drugs. Any substance that can impair thinking and judgment should not be used before driving.
Reckless Driving
Reckless driving is defined by the state of Illinois as driving a vehicle with a disregard for the safety of others. Using an incline to make a vehicle become airborne is one of the most common examples of reckless driving. Other examples include speeding at more than 35 mph over the speed limit, lane swerving, running red lights, and disobeying other traffic laws.
What to Do After a Car Accident in Illinois
If the car accident you're involved in isn't too serious, the first thing you should do is move the vehicles out of the road, if possible.
Call 911
In Illinois, all motor vehicle accidents must be reported to the police if damages exceed more than $1,500 or if there are any injuries or death. It may be difficult to estimate the cost of damages and injuries may not show up right away, so it's best to call the police just in case. This way, you'll also get an official police report, which will come in handy later.
Gather Information from the Other Driver(s) and Witnesses
In addition to a police report, it's helpful to have an account of any witnesses, if possible. You should also get the name, insurance information, and phone numbers of all drivers involved in the wreck.
Contact a Personal Injury Attorney
After an accident, you should also call a personal injury attorney, especially if you weren't at fault. Most personal injury law firms specialize in motor vehicle accidents, and they can make sure that the insurance companies pay you the money you're entitled to.
Notify Your Insurance Company
You should also notify your insurance company after the wreck. Your own insurance may offer compensation for the damages even if you weren't at fault— but again, checking with a personal injury attorney first is a good idea. Even your own insurance company may not pay you everything you're entitled to.
The bottom line is that it's important to practice safe and responsible driving in Illinois and wherever you go. Unfortunately, this isn't the reality as many people make poor decisions and disobey traffic laws— which is why it's equally important to know what to do after you're involved in a car accident. Personal injury attorneys across the state can help you understand your rights if you're a victim of a car accident and can get you the compensation you deserve.