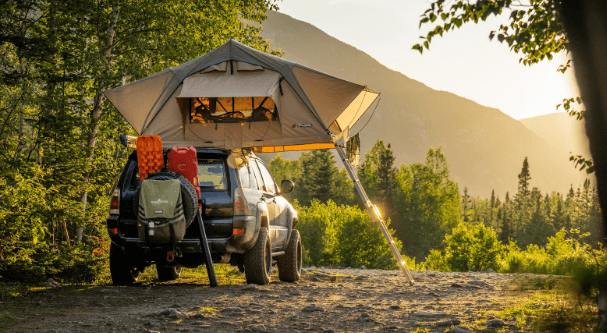 As a travel enthusiast, I'm always on the lookout for exciting outdoor activities that allow me to immerse myself in nature and explore new places. I recently discovered Pigeon Forge, Tennessee, an action-packed vacation destination with lots of Southern charm. It has scenic mountains, lush forests, beautiful rivers, and nearby cities that offer a wide variety of outdoor activities. It's the perfect location for thrill-seekers and nature lovers alike. I could go on and on about the variety of fun things to do in Pigeon Forge. So without further ado, here are the top 10 outdoor activities in Pigeon Forge for an adventure-packed vacation.
1. Mountain Biking
Mountain biking is a popular outdoor activity in Pigeon Forge. It is a great way to get outdoors and experience the natural beauty of the Smoky Mountains. Riders of all skill levels are encouraged to explore the Great Smoky Mountains National Park. The trails range from easy scenic rides (Little River Trail) to challenging single-track trails (Cades Cove Loop). There are even some road bike-friendly options outside of town. For instance, the Townsend Bike Trail has approximately 3 miles of paved trail, earning it the name "The Peaceful Side of the Smokies."
2. Zipline Courses
Try one of Pigeon Forge's many zipline courses for a truly thrilling experience. The Adventure Park at Five Oaks has an adrenaline-pumping 2,000-foot zipline for true adventurers. The Foxfire Mountain Adventure Park is another popular option. Its ziplines course through the beautiful forests of the Smoky Mountains and over a waterfall and creek. While you're at it, put your climbing skills to the test on their 60-foot climbing wall.
3. White-Water Rafting Adventures
Consider white-water rafting on the Pigeon River in Hartford. It's only about an hour's drive from Pigeon Forge and has challenging Class III and IV rapids. If you're playing it safe, try the Little Pigeon River. It is perfect for families and beginners. Several companies offer guided white-water rafting tours. Rafting in the Smokies is locally owned and has operated for over 40 years. Smoky Mountain Outdoors is top rated on Tripadvisor for their high attention to detail. Both are sure to provide a memorable and scenic float down river.
4. ATV Tours
ATV tours in the Smoky Mountains are for rugged adventurers looking to explore the great outdoors. Bluff Mountain Adventures ATV tours take you through the lush forests and mountains of Pigeon Forge. You can choose from one-hour or 1.5-hour tours. Stop and enjoy the scenic vistas as you ride through 6,000 acres of mountain trails. You might even see some wildlife. Guided ATV tours are always at the top of my adventure list. I just love getting muddy!
5. Horseback Riding
Experience the beauty of the Smoky Mountains on horseback with a guided trail ride. Walden Creek Stables offers a range of horseback riding experiences, from a 30-minute ride for beginners to a two-hour ride for more experienced riders. The stables are surrounded by over 500-acres of lush land and you get a choice of exploring valley trails, mountain trails, and a sunset trail with views overlooking the majestic valley. Sign up for the overnight trail experience and emerge a certified cowboy.
6. Fly Fishing
Pigeon Forge is home to some of the best fly fishing in the Southeast. The Little Pigeon River is stocked with rainbow trout, brown trout, smallmouth bass, and rock bass. Smoky Mountain Angler is a popular fly fishing outfitter that offers guided tours for experienced and novice anglers. The fishing trips focus on either wade fishing or float fishing and are offered in half-day or full-day packages. The packages include all rental fees and gear but you'll need to provide your fishing license. Smoky Mountain Angler also offers fly fishing lessons for those new to the sport. The lessons cover casting techniques and fly-tying. Experience the thrill of fly fishing in the beautiful Smoky Mountains. 
7. Hiking
Explore the beautiful trails of the Smoky Mountains on foot. The Gatlinburg Trail is a paved trail that is perfect for families. The trail is approximately 3.9 miles round trip and is generally considered an easy hike. The Gatlinburg Trail is one of two trails in the entire Smoky Mountains National Park that allows dogs to be walked on a leash.
Huskey Gap Trail
Huskey Gap Trail is a more moderate trail that's 4.2 miles round trip with a gentle slope. Unlike the Gatlinburg Trail, hikers are treated to a quiet forest hike. In the Spring, participate in the annual Spring Wildflower Pilgrimage Tour and see an incredible variety of wildflowers during your hike.
Rocky Top Thunderhead Mountain Trail
Try the Rocky Top Thunderhead Mountain trail and push it to the limit. This strenuous hike is a 13.9-mile roundtrip challenge that takes you up to 3,665 ft for some amazing panoramic views. There are three summits to choose from with Rocky Top offering the best views. It's a 550-foot climb to the top but well worth the effort for the stunning photo opportunity. Be sure to pick a picnic, a protein bar, and an IV drip if you expect to make it back before dark!
8. Tubing
Go tubing down the Little River if you're looking for a more relaxing outdoor activity. Located in Townsend, River Rat Tubing provides all-day tubing that's family-friendly and great for all ages. Park for free and take a shuttle to one of two available routes. Outpost A is a family-friendly route with mild rapids, swimming holes, and a rock jump. This route is suitable for children aged 3+ and you can even bring the family dog! Outpost B is for the adventurer. Children need to be at least 6 years old to participate and your dog will have to wait on the banks. Life jackets, tubes, and unlimited rides are included with each package so get out there and get the adrenaline pumping!
9. Golfing
Pigeon Forge is home to several beautiful golf courses that have amazing views of the surrounding mountains. Gatlinburg Golf Course is a popular choice. The challenging 18-hole golf course was designed by William Langford. The narrow fairways, strategically placed bunkers, and water hazards have made the course a local favorite for many years. Gatlinburg Golf Course is open year-round and is suitable for golfers of all ages and skill levels. Take advantage of their twilight golf rates to enjoy discounted green fees. It's probably best to call their pro shop for updated tee times.
10. Wildlife Viewing
The Smoky Mountains are home to an abundant range of wildlife. Want a chance to see these wild animals up close? Visit the Mountain Wildlife Museum in Pigeon Forge. Learn about the wildlife and natural history of the Great Smoky Mountains. The exhibits showcase premiere taxidermied animals including black bears, deer, cougars, and wild turkeys. It's a unique destination and one of Pigeon Forge's newest attractions.
Conclusion
Pigeon Forge is a true paradise for outdoor enthusiasts who seek adventure and relaxation in nature. Choose from hiking in the Great Smoky Mountains to ziplining through the treetops to kick-start your adventure. Explore the great outdoors and ride through thousands of acres of trails on ATV or horseback. Have a relaxing day by the river fly fishing for trout and bass. Improve your skills while you're at it with a quick lesson on casting. Take the kids tubing or stop and smell the wildflowers. There's no end to the adventure and outdoor activities that Pigeon Forge has to offer.